The Ding King repairs any kind of surfboards, fiberglass or epoxy, longboards, shortboards, windsurf, kitesurf, skimboard, kayaks, etc. in our Honolulu shop.
We do it all , the minor dings to broken boards, we install all fin box systems and all plugs. We also do color matching if required.
All of our repairs are finished with high quality sanding and polishing. Old wax is removed before repairs and boards are returned dust free.
Turn around time is 3-6 days for small repairs and no more than two weeks for major jobs. Rush repair are also available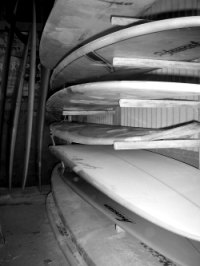 Boards restoration is available too, we will make your old dusty boards "cherry" again !!
We are starting new airbrush service to apply custom designs on top of both epoxy and fiberglass boards. All airbrush are protected with a high quality clear coat.
We are opened 7 days a week from 9am to 1pm. For after hours board check-in, please give us a call to set a time.
Pick up and delivery service in Waikiki area.
For a free estimate or any question, please call us anytime at:
(808) 391-7483
Mahalo for choosing the ding king
The Ding King
Surboard Repair, LLC
454 Kamani St. ( next to Ward/Kaliolani junction )
click here for directions